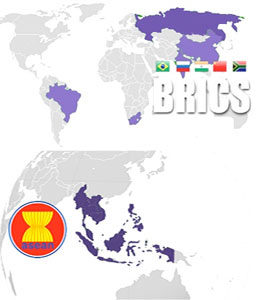 MGCG has designed an emerging markets advisory program for international companies seeking to expand in emerging markets. Our services are designed for companies that are looking to develop Or implement a presence In Emerging Markets. We can assist you to better understand the country-level trends, challenges, and growth opportunities, as well as develop country profiles customized to your needs. MGCG has invested in:
BRICS Resources Expertise:

Our resources can assist you in engaging with companies, investors and businesses in each of the BRICs (Brazil, Russia, India, South Africa And China) rapidly growing economies.



ASEAN Resources Expertise

: The ASEAN is an economic cooperation of the following South East Asian countries: Singapore, Vietnam, Indonesia, Malaysia, Thailand, Laos, Myanmar, Philippines, Cambodia and Brunei. Our resources can assist you with market analysis, sales strategy (Product Mix, Marketing Mix), management and administration.
For more information, please contact us at info@mgcgusa.com